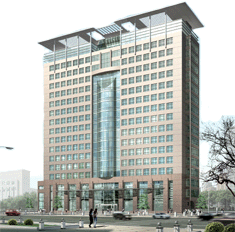 Shanghai Institute of Biochemistry and Cell Biology (SIBCB) was one of the units of Shanghai Institutes for Biological Sciences (SIBS), Chinese Academy of Sciences. Since March 18th, 2020, SIBCB has been renamed to CAS Center for Excellence in Molecular Cell Science (CEMCS), a cross-disciplinary, multi-institutional organization founded by Chinese Academy of Sciences (CAS), which aims to consolidate existing research strength of CAS laboratories via the formation of collaborative research teams.
Shanghai Institute of Biochemistry and Cell Biology (SIBCB) was established in 2000 through the merger of Shanghai Institute of Biochemistry (founded in 1958) and Shanghai Institute of Cell Biology (founded in 1950). Both of the former institutions had contributed to scientific advances over the last century including the total synthesis of crystalline bovine insulin, the total synthesis of yeast alanine tRNA, the artificial propagation of domestic fresh-water fish and artificial monogenesis of amphibian oocytes. Based on their rich academic experience, SIBCB has been an important national research base since its establishment with the pioneered and outstanding research programs in the area of biochemistry, molecular biology and cell biology.
As a nation-renowned institution, SIBCB seeks preeminence in exploring the fundamental knowledge about nature and human diseases, and applying that knowledge to advance the public good. It is dedicated to fostering innovative discoveries and inspiring an exciting education culture for nurturing future talents.
Each year, SIBCB takes on about a hundred research projects in pursuit of scientific questions mainly supported by Natural Science Foundation of China, Ministry of Science and Technology, Shanghai Municipal Government, and CAS. The ongoing projects cover a diverse range of topics in life science such as: Protein Science, Gene, RNA and Epigenetic Regulation, Signal Transduction, Cell and Stem Cell Biology, Cancer and other Diseases.
At present, SIBCB comprises 67 independent research groups that are directed by individual principal investigators (PIs). 10 PIs are the academician of CAS, and half of the PIs have been recruited in recent years. In addition to faculty, there are about 155 postdoctoral fellows, 590 graduate students, 458 research/technical and administrative staff directly and indirectly support the research activities of SIBCB.
To strengthen scientific exchanges, SIBCB has been actively promoting research collaborations in China and abroad. It has established the partnerships with world-wide institutions, universities, industries and organizations including Max-Plank Society of Germany, Asian-Pacific International Molecular Network (A-IBMN), RIKEN of Japan and the University of Toronto of Canada. The collaborations and communication channels have led to exciting research opportunities. Notably, SIBCB has been collaborating with Nature Publishing Group in issuing the peer-reviewed international journal Cell Research monthly, which is considered as a highly respected journal in molecular cell biology field.